The publishing activities of Medical Communications are not only publications, but also audio and video materials.
Our aim is to promote the latest knowledge and scientific news in all fields of medicine, so we prepare high-quality virtual lectures and audiobooks in cooperation with Key Opinion Leaders.
This is a great way to be unique, stand out, and keep the attention of the audience.
virtual background – 3D studio render

infographics

animations

2D and 3D graphics
We handle the whole production process: preparing a scenario – planning the content-based elements, breaks, and interactions that attract the attention of the audience and guarantee that the participants remain present until the last minute of the webinar. We prepare experts to work with the camera and in a recording studio.
We provide attractive graphic design that not only improves the aesthetic values of the content, but also enhances the message and increases conversion rate.
Sample productions are available here: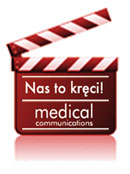 For references, contact Product Managers and Key Opinion Leaders with whom we worked on the previous realisations, including Professor Marek Wojtukiewicz, Professor Zbigniew Krasiński, and Professor Andrzej Żyluk.